This tasty vegan recipe is perfect for carnivores, vegetarians, and vegans alike! They're low in fat, high in protein, and full of flavor. Try bringing these to your next party or simply make a bunch and store in the freezer. This recipe doesn't include mushrooms for those of us not fond of fungus.
Vegan Wontons
8 oz (or half of a 16 oz package) of Firm Tofu
A handful of spinach
1 tblsp green onion
1 tblsp minced garlic
1 tsp green curry paste
1 tsp freshly chopped cilantro
2 tsp lemon juice
1 tiny pinch (1/6 tsp) of freshly grated ginger
Sprinkle of salt and pepper
Wonton wraps
A tiny cup of water
Hoisin Sauce for dipping
All you need to do is take the tofu, spinach, onion, garlic, curry, cilantro, lemon juice, ginger, and salt and paper, and add them to a food processor. Blend until smooth. Feel free to try it and add ingredients to suit your taste. The taste of the curry, however, will come out after you cook the wontons.
When the filling is blended, it will be very green but very tasty!
Once you have your filling complete, get ready to make the wontons!
There are a few different ways to wrap it, but my favorite and the easiest wrap to learn is simple. Wet all the sides of your wonton wrap. Add your filling. You'll find that you really don't need that much: about a teaspoon.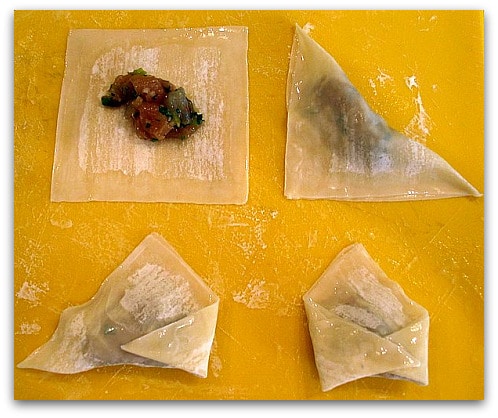 Take opposite corners and fold over your filling. Take the remaining edges, dab them with water, and place them on the center of your dumpling to seal it. You're done!
If you want to boil them, it'll take about 5-6 minutes. If you want to deep fry them, fill a pan with about 1 inch of sunflower seed oil. Set it at medium heat, and let it warm up. Add your dumplings on their side. Flip them over after about 2 minutes.
To freeze, place on a plate and wrap with plastic wrap. Them them freeze in the freeze on the plate, about 1 hour, then place in a large plastic bag.
When you're done cooking your wontons, serve with hoisin sauce. Enjoy!